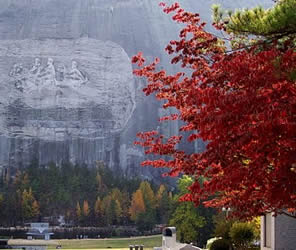 Stone Mountain is famous for the mountain, carving and recreational areas in Stone Mountain Park, one of the most visited parks in the US. Atlanta Tree Arbors provides economical safe tree removal service for Stone Mountain, in compliance with DeKalb County tree removal guidelines. Call 770-256-4599 for a free tree removal estimate in Stone Mountain or DeKalb County. The tree service professionals at Atlanta Tree Arbors have the training, knowledge and equipment necessary to handle any tree removal job in Stone Mountain or DeKalb County, so call us today for a free tree service estimate or insurance work.
Tree Removal Permits for DeKalb County
DeKalb County's tree protection plan seeks to allow homeowners some flexibility in cutting trees, but imposes strict requirements for new developments. For example, you may cut up to five trees a year on a private plot, as long as they are smaller than 30 inches in diameter, and you may cut as many trees as you like fewer than 8 inches in diameter, unless it is a precursor to earthmoving. In the case of earthmoving, which constitutes new development, a more complicated evaluation takes place, which emphasizes a certain level of tree cover for all new developments. You may not cut specimen trees in DeKalb County without a special permit. Source: DeKalb County Homeowner Guide for Tree Removal.pdf
Tree Service Reviews: Stone Mountain, GA
# Brian and his crew were prompt and professional when they skillfully removed several large limbs from a tree in my yard. They did the job right and they cleaned up when they were finished. Best of all, they did it for a great price. I highly recommend Atlanta Tree Arbors.
Stone Mountain, GA
# Everything was great - lowest cost of four quotes, showed up on time, did the job as promised with zero damage to our yard.

Other companies wanted to use a crane due to access issues, which would have damaged the yard. These guys brought in a crew, cut it up in sections and carried it out. And still finished in less than a full day.
We highly recommend them.
Atlanta, GA
# "Thanks Brian, nice job. We are especially happy with the clean-up.
We would call you back for work anytime!
Atlanta, GA"



We provide insurance and references with every job, and encourage you to visit our references page to read what our customers are saying. Click here to see photos of our work ... then call or schedule an appointment for a free written tree service estimate.