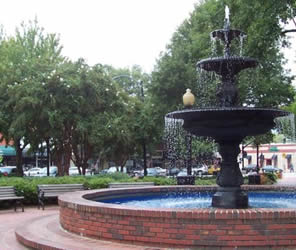 Marietta offers history, theater, fine dining and beautiful shade trees. Atlanta Tree Arbors, located in Marietta, GA, provides tree removal service in Marietta, GA and the Cobb County area. Call 770-256-4599 for a free tree removal estimate in Marietta or Cobb County. The tree service professionals at Atlanta Tree Arbors have the training, knowledge and equipment necessary to handle any tree removal job in Marietta and Cobb County, so call us today for a free tree service estimate or insurance work.
Tree Removal Permits in Marietta, GA
Tree removal in the City of Marietta, GA is is subject to city and Cobb County county zoning ordinance requirements for both residential or commercial property. In general, permits are not required to remove dead or diseased trees from residential property. Permits may be required for Commercial property, depending on where the tree is located.
Source: Marietta Tree Ordinance Fact Sheet November 2006.pdf
Tree Service Reviews: Marietta, GA
# These guys where great to deal with. I am so glad I went with them. They were honest, on time, and did a great job. Thanks, Brian, couldn't be happier.
Dan
Marietta, GA
# Everything was great - lowest cost of four quotes, showed up on time, did the job as promised with zero damage to our yard.

Other companies wanted to use a crane due to access issues, which would have damaged the yard. These guys brought in a crew, cut it up in sections and carried it out. And still finished in less than a full day.
We highly recommend them.
Atlanta, GA
# "Thanks Brian, nice job. We are especially happy with the clean-up.
We would call you back for work anytime!
Atlanta, GA"



We provide insurance and references with every job, and encourage you to visit our references page to read what our customers are saying. Click here to see photos of our work ... then call or schedule an appointment for a free written tree service estimate.