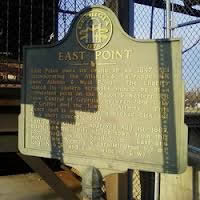 East Point was founded in 1851 with humble beginnings. Still considered a small city, located southeast of the major cities and neighborhoods of Atlanta, East Point has enjoyed resurgence in recent history. Home to the Camp Creek Marketplace and several other new businesses, East Point is also known for being the home to the Federal Bureau of Prisons Southeast Region Office and the National Archives regional repository for data collected by the U.S. Census. Additionally, the Fulton County School System has their headquarters in East Point.

Tree Removal Permits, East Point, GA
Tree removal in East Point requires a permit issued by the East Point Zoning Ordinance This applies to all trees greater than a 4 inch diameter-at-breast-height (DBH). In the ordinance, all single-family homes removing less than five specimen trees must submit a report through the tree removal company. If removing 6 or more specimen trees, an arborist certified by the International Society of Arboriculture must submit a tree replacement plan report. If more than six specimen trees are to be removed within a 24-hour period, proper documentation is required to show the trees are diseased or pose a danger to the health and safety of the owner and/or public safety.

Tree Service Reviews: East Point, GA
# Brian and his crew came highly recommended by a friend of the family. I had them come out to give me an estimate. The prices seemed fair and once the work was completed, I was impressed with the results. Thanks again Brian! Job Well Done!
John K.
East Point, GA

# Just wanted to let you know that your crew did a great job on removing three limbs from my roof. This was the Sunday after the tornado in downtown Atlanta/Cabbagetown. The crew was very professional, took care in my home, roof, stacked usable wood for my fireplace, and cleaned up the roof and yard when the removal of the limbs was complete. Please pass along my thanks to Brian and his crew.
Thank you,
Scott S.
# "Thanks Brian, nice job. We are especially happy with the clean-up.
We would call you back for work anytime!
Atlanta, GA"



We provide insurance and references with every job, and encourage you to visit our references page to read what our customers are saying. Click here to see photos of our work ... then call or schedule an appointment for a free written tree service estimate.