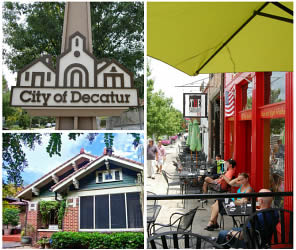 Decatur is part of the Atlanta Metropolitan Area and is known as a suburb. Boasting 21 neighborhoods and historic districts, this tree dense city is also home to dozens of thriving local businesses alongside national chains. Home to Agnes Scott College, Emory University and Georgia Perimeter College, Decatur has a mix of full-time residents and a rotating student population. The Decatur MARTA station provides easy access to Downtown Atlanta for commuters as well as access to Braves games, Falcons games, Hawks games, concerts and more. The Decatur community combines the big city feel with suburban living.
Tree Removal Permits, Decatur, GA
Tree removal in Decatur must abide by the Dekalb County Tree Protection Ordinance. This states that if a home is more than 2 years old, no permit is required for tree removal. If the home is less than 2 years old, has been redeveloped (taken down to the ground and rebuilt), or is in a Historic District, tree removal permits will be required. Some tree removal may require you to plant a new tree on the same property. Source: Dekalb County Homeowner Guide for Tree Removal.pdf
Tree Service Reviews: Decatur, GA
# Brian and his crew were prompt and professional when they skillfully removed several large limbs from a tree in my yard. They did the job right and they cleaned up when they were finished. Best of all, they did it for a great price. I highly recommend Atlanta Tree Arbors.
Decatur, GA
# Everything was great - lowest cost of four quotes, showed up on time, did the job as promised with zero damage to our yard. Other companies wanted to use a crane due to access issues, which would have damaged the yard. These guys brought in a crew, cut it up in sections and carried it out and still finished in less than a full day. We highly recommend them.
# "Thanks Brian, nice job. We are especially happy with the clean-up.
We would call you back for work anytime!
Atlanta, GA"


We provide insurance and references with every job, and encourage you to visit our references page to read what our customers are saying. Click here to see photos of our work ... then call or schedule an appointment for a free written tree service estimate.